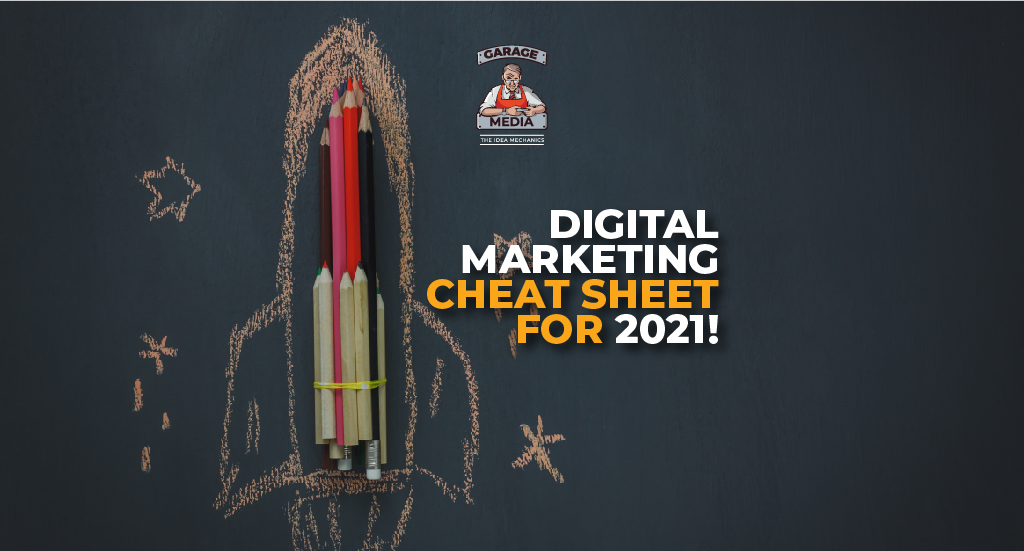 Digital Marketing Cheat Sheet 2021
If 2020 was a Failed Year, it doesn't mean that everything else got pinned. Digital marketing experienced an upper hand that excelled businesses rather than their demolition.
There is no doubt in claiming that 2020 was the worst year ever. Starting from joblessness to frustration to talent ignorance to business loss. There have been many shades of failure that ruined the lives of many in the year. However, digital marketing has changed the trend in the recent days. Keeping a tab with the best digital marketing agency, we have come up with the cheat sheet that has successfully helped businesses to excel in the year when things were turning down.
Voice search:

While we believe that voice search has come out impressively. In the year 2020 this artificial intelligence has seen its dawn while many were found at home with work or learning home-cooking recipes through the speaking bot.

Periodic Content of Content Marketing:

Well, there is no harm if you sail through with well-settled content. Because then, you have everything planned according to the periodic table. From content strategy to metrics everything was well-planned for the year 2020.

Digital Video:

With the crunch in time, digital video is getting enhanced. In the year 2020, digital video was used as a new learning. It amplified ROI that has proved to be the king of content elements above all.

Landing Optimization:

As things have gone online since last year, a digital marketing company in Noida has worked hard for designing and optimization landing pages. As shared by digital marketing experts, the necessary things that they have incorporated are compelling headlines and crisp introductions. This further included FAQs, graphics, and a call to action.

Social Media for Brand:

It has been seen that many digital marketing companies have spent days bringing out messages of business in the most native yet interesting form. Additionally, social media has come as a rescue for making things simplified. It will help you to choose an array of right gateways for social channels.

Communities:

It is better to bring out the word from the society. It is increasingly difficult and expensive to reach out to the core target audience while breaking the clutter of communication. Consumers are connecting more with communities where they share their instances and stories. This has helped to bring business to life once again after the ill effects of the lockdown.

Chatbots:

As said earlier, communications has always worked to bring people together. Chatbots on the same note have helped businesses to interact with people and thereby help brands reach new heights. As this is a unique platform, chatbots help to develop consumer journeys with their strength and weakness. Additionally, it also facilitates a balance between automation and customization.

Mapping Online and Offline:

Most brands split their efforts into two. This compensates efforts and budget across various channels. Whereas the consumer doesn't want to go in a pre-defined pathway. Even two brands under the same category could have different consumer journeys.

Retargeting Strategies:

The cheat sheet which our best digital marketing company has shown claims to simplify the process of retargeting your consumer. This helps to know your consumers all over again and magnify the loopholes that might have been missed out while pitching up in the first place.

Influencer marketing has grabbed a special place:

Influential marketing has able to grab a special place for exposure in the last two years. The enumerable best digital marketing agency is pacing up with influencer marketing tactics. Brands have adopted new methods for engagement that segregate influencer marketing strategies.

Brilliant Blog Posts:

Content is something that is not considered as a filler but is considered as an engagement tool. Blogs drive traffic and this is coined by many digital marketing companies in Noida. They help you rank better in search engines. This gives you ideas about different kinds of blogs that you can use in content marketing ideas for blogging.

Inbound Marketing:

This focuses on getting the attention of the prospects or influencers with the help of content marketing, social media marketing, and search marketing. This assists every step in a customer's buying journey.

Google Analytics:

If you are unable to track your customer's activities, you cannot set your upcoming strategies and offers. However, if you contact the best digital marketing agency, you can streamline everything. It will let you know how you can create events for any kind of audience and encourage user interaction.

Encourage Email Targeting:

Well, this is not old-school. Through email marketing, you can strengthen your bond with your clients even if you are not keeping up much. Starting from sharing offers to celebrating special days (i.e. birthday/anniversary) and more, email marketing has not become dormant. It is active just like yesteryears.

Digital Marketing:

Being an A to Z strategy, digital marketing helps with everything that deals with search engine marketing, pay per click, social media marketing, content marketing, email marketing, and graphic designing. So, whether you choose one or more for your business, digital marketing is the thing that needs to be achieved for healing one's business.

As the digital space keeps on evolving in today's online habitat, it is a never-ending process.

With the all-new digital space that has created itself in 2020, it is sure that it is here to stay. So, be it your professional portfolio to business websites and gateways and others, you need to be all-time ready to excel.

Cheat sheets are the best form to improvise your business and get ready for the big years ahead. So, here you go! Here you would have got the top 15 digital marketing cheat sheet hacks through which you can excel your business with the better assistance of some digital marketing company in Noida.

Written By – Deboshree Mazumdar